During summer and autumn visitors to Curio Bay can often see the Hector's Dolphins, the smallest in the world, playing in the surf. This area is unique as the dolphins come close to the shore without being enticed by people feeding them.
Several Yellow-eyed Penguins nest in the area around Curio Bay, eggs are laid in September/October and both parents incubate and help rear chicks. Birds usually leave the nest for the sea early in the morning, returning late afternoon and can be viewed from the viewing platform at the Petrified Forest/Visitor Centre.
Blue Penguins nest in burrows around Porpoise Bay and are often seen leaving and returning to their burrow.
New Zealand Sea Lions regularly haul themselves out of the water and onto the beach of Porpoise Bay and the rocks of Curio Bay.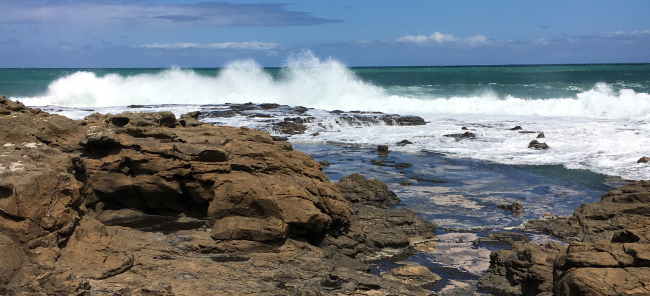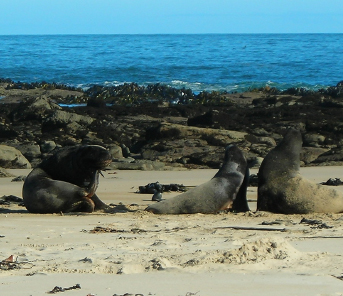 Things to do in the Catlins
Family Friendly Activities
Swimming
Beach walks
Visit the Petrified Forest
Bushwalks
Dolphin watching
Wildlife spotting
Lighthouse at Waipapa Point
Yellow-Eyed Penguin viewing
More information can be found on the official Catlins website about walks, cycling, tours and other activities.
Curio Bay Surf School
Curio Bay is the perfect place to surf, whether a first time surfer or an experienced one, the bay has the prefect swells to ride - you don't want to miss the opportunity to surf the waves. Unsure about surfing? Why not give Stand Up Paddle (SUP) a go and enjoy all that the bay has to offer. Learning to surf, hiring a board or finding the right spot, the Surf School is your go to place.
DOC Information about Curio Bay/Porpoise Bay
www.doc.govt.nz/parks-and-recreation
The Tumu Toka Curioscape Visitor Centre
The Visitor Centre is located right in Curio Bay and is a great way to find out more about this unique region of New Zealand.
It offers a "Gateway Experience" which includes The Edge Experience Immersive Theatre and all visitors to the Gateway have access to the Curio Guide - a mobile guide which offers interactive content about the area on your own mobile or device.
Fees apply and guided tours and family packages are available.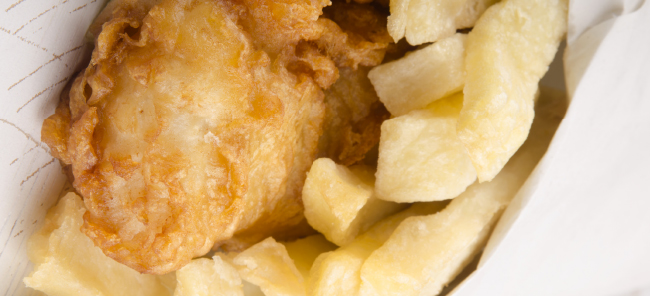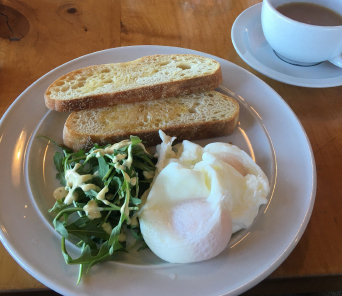 Due to the remote location of Curio Bay dining options (particularly for the evening meal) are limited. We have cooking facilities and a refrigerator available in each unit and encourage you to stock up on supplies before coming to the Catlins. Should you have forgotten anything the local campground, Curio Bay Holiday Park, has basic supplies.
There is also a convenience store in Tokanui (about a 25 minute drive away).
Tumu Toka CurioScape Cafe & Restaurant
Located in Curio Bay and is open 7 days a week from 8am - 10pm. It is fully licensed and offers both restaurant meals and cabinet selections. Whether for a full meal or just a coffee, it is well worth a visit Phone (03) 246 8897 or visit www.curioscape.co.nz
Niagara Falls Café
256 Niagara Waikawa Road. About a 10 minute drive away. Lovely café and gift shop. In winter, hours are 11am to 4pm and they are closed Tuesday and Wednesday. Phone (03) 246 8577 or visit www.niagarafallscafe.co.nz
Blue Cod Blues
Kiwi fish and chips served from a caravan in Waikawa. Hours are seasonal. A sign is usually displayed at the front of the caravan detailing opening hours.
The Tokanui Tavern
18 McEwan Street, Tokanui. About a 25 minute drive. Bistro style meals and bar snacks. Phone (03) 246 8725
The Fortrose Café
5 Moray Terrace, Fortrose. A little further away, about a 35 minute drive via Tokanui, but a great option if venturing further afield sightseeing or on your way to or from Curio Bay. Phone (03) 246 9888
NB. Open times may vary from what is shown here